Soviet Georgia – A Retrospective
Lecture by Lasha Bakradze
April 6, 2014 at 8 p.m.
admission free
In order to really understand what Living in a New Era is all about, it is worth taking a look at the past – and especially for us Germans, Georgia has some very interesting history.
It was indeed Bavarian troops under Baron Friedrich Kress von Kressenstein who supported the Georgians in gaining their – albeit very short-lived – independence. Up to this day, many Georgians keep this memory of the Germans alive.
Georgian's "most famous son" is Stalin – and still the opinion of him in Georgia is not as unambiguous as one might expect, when you consider the suffering that his own native land had to endure under his rule.
The country's relationship to Russia and the Russian culture is downright complex, being influenced culturally and socially for almost 200 years until Georgia finally managed to win its independence in 1990.
How a country the size of Bavaria with some five million residents, as an ex-Soviet republic initially left without any autonomous infrastructure and industry and against all odds and dramatic circumstances that it was forced to struggle against actually managed to spread its wings – it is a painful success story, which for us in the west is particularly moving.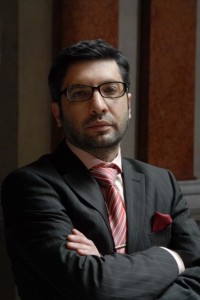 Lasha Bakradze, born in 1965, studied German philology, theology and history in Tbilisi, Jena, Potsdam, Bern and Berlin.
He has been active in diverse areas of cultural life: a journalist for radio and television in Georgia and Germany, program coordinator at the Goethe Institute Tbilisi, script writer and actor. Currently he is professor at the Academy of Arts and the Ilia State University and Director of the State Museum of Literature in Tbilisi.
Mit freundlicher Unterstützung durch die